Looping and Sticking Solution: G2 Tri-Sure® Steel and Plastic R-plugs™
G2 Tri-Sure® steel and plastic R-plugs™ set an even higher standard for the trouble-free sealing and opening of metal containers. The R-plugs™ are an ideal closure for a variety of applications, from food, beverage, and household products to industrial chemicals.
They are easy to install and remove, with no need for special tools or equipment. The unique design of the plug creates a positive seal that will not leak or corrode, and the plug's tamper-evident features provide an extra layer of security.
What's the problem?
Standard steel plug designs have the washer seated on the cylindrical part of the plug, just below the rim. With these designs, the washer can get forced out from between the plug and the flange when tightening the plug. This effect is known as "looping" and can cause expensive delays on automated end-of-line insertion.
With standard designs, the plug washer sometimes remains "stuck" to the flange when the plug is being removed. This "gripping" effect can cause washer jamming and/or damage, resulting in product contamination and expensive filling line stoppages
What's the solution?
The unique R-plugTM design for G2 Tri-Sure® steel and plastic plugs keeps the washer firmly positioned on the plug. The inwards-angled washer seat reduces the risk of "looping" when the plug is tightened at the recommended closing torque.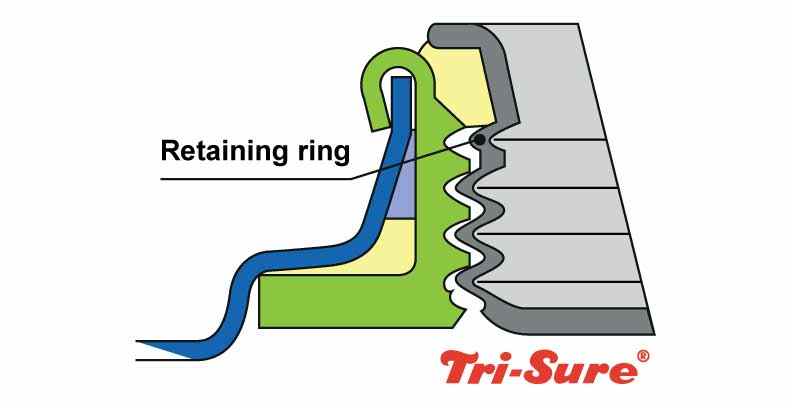 The retaining ring makes sure that the washer remains in position when the plug is unscrewed, thus reducing the risk of "gripping".
Full customer support
As expected of the world leader in industrial closure systems, we provide a full range of manual and pneumatic tooling and adaptors to support these of our products. The sealing and opening of Tri-Sure® steel and plastic plugs come standard with support from our global team.
Our worldwide technical team can also offer practical advice on achieving optimal plug application and closing performance. G2 steel and plastic R-plug™ is designed for maximum performance in combination with 4s® G2 flanges.
Options
• The R-plugTM design is available standard on all Tri-Sure® G2 steel and plastic plugs.
• To prevent corrosion, standard Tri-Sure® steel plugs are zinc-plated. For special applications, stainless steel, phosphated, or tin-plated mild steel are also available.
• Tri-Sure® plastic plugs for steel containers are available in white PP, PE, and nylon.
• All Tri-Sure® plastic plugs for steel containers are evaluated and approved by Factory Mutual and carry an <FM> marking.
Product advantages
✓ Opens faster and easier.
✓ Unique retaining ring design means no more washer gripping and end-of-line stoppages.
✓ Conical washer seat design means no more washer looping and filling line stoppages.